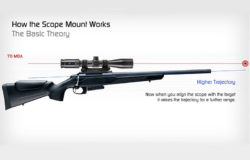 Posted on May 29, 2015 by Alan Rhone in Scope Mounting.

Riflescope mounts are a large part of our business and consequently we sell a lot of Picatinny rails. We offer these in various MOA and have always been surprised how many 20 MOA rails we sell. Over time it has become clear that many who buy these rails don't actually know what MOA is and […]

Continue Reading... No Comments.