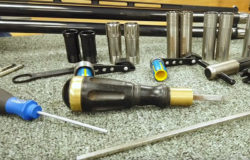 Posted on April 14, 2018 by Alan Rhone in Shotguns.

Often asked thread and wrench sizes for the K-80. Front sight thread is 2.5mm Mid sight thread is 2.5mm Bead thread on older guns was 2.6mm Trigger adjusting wrench is 1.27mm / 0.050″. Same wrench locks the barrel selector. Trigger guard screw slot needs a flat blade 7mm wide x 0.5mm thickness. Comb adjusting wrench […]

Continue Reading... No Comments.