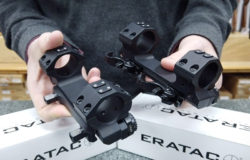 Posted on November 26, 2020 by David Jackson in Scope Mounting, Videos & Media.

In this video we take a look at the ERATAC Adjustable Inclination Mount, produced by Recknagel. The One-Piece Picatinny Mount allows you to adjust the MOA from 0 to 70 or Mil-Rad from 0 to 20.

Continue Reading... No Comments.