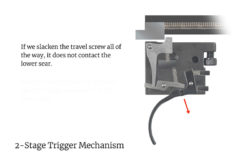 Posted on November 6, 2020 by David Jackson in Rifles, Schultz & Larsen, Shooters, Videos & Media.

This video cover the trigger adjustments on a Schultz & Larsen Two Stage Trigger. There are a few adjustments possible on a Two Stage Trigger and we take a look into what can be altered. There are two types of trigger on the Schultz & Larsen Victory Rifle, the Two Stage Trigger, shown in this […]

Continue Reading... No Comments.