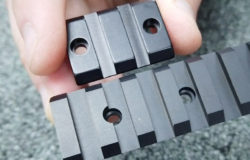 Posted on January 14, 2021 by David Jackson in Scope Mounting, Videos & Media.

In this video we look at the two very popular mounting options Weaver and Picatinny. We show you different features and what to look out for with each system. A Picatinny Rail is a full length rail of slots, with a 5.23mm wide slot every 10mm. Whereas Weaver Bases have usually 4 (sometimes 3) slots […]

Continue Reading... No Comments.