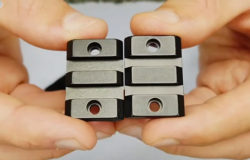 Posted on December 7, 2020 by David Jackson in Scope Mounting, Videos & Media.

In this video we take a look at the Weaver and Picatinny Bases. The two specifications differ slightly, with Weaver slots measuring 4.57mm wide and Picatinny slots measuring 5.23mm wide. This means that Weaver Rings will fit in to both Weaver and Picatinny Bases. Picatinny Rings are a wider profile and are too wide to […]

Continue Reading... No Comments.