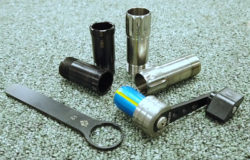 Posted on April 17, 2016 by Alan Rhone in Krieghoff K-80, Shotguns.

Krieghoff offer two types of choke tubes for the K–80, Steel and Titanium. There is no difference in performance between the two but the Titanium chokes are longer and lighter than the steel version. Average weight of a Steel Choke tube in 1⁄2 choke is 23gm. The same Titanium Choke weighs 18gm. The longer Titanium […]

Continue Reading... No Comments.