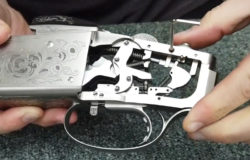 Posted on April 11, 2016 by Alan Rhone in Krieghoff K-80.

The K-80 safety slide located on the top strap has a button to prevent it moving accidentally. To move the slide forward, depress the button with the the thumb. To move it back, depress the button again. The selector can be locked "off safe" by means of a locking screw through the side of the […]

Continue Reading... No Comments.